Yup. You are at the right place.
It's Monday and it's a very special, special day. It's
Mojo Monday!
And,
Julee Tilman
, Owner of
Verve Stamps
and creator of Mojo Monday is having a little one. Actually... a couple of little ones. That's right, TWINS!
And I am hopping with joy for Julee and Mark. A bunch of us are. Blog hopping that is. So if you've come from
Sarah's
blog, you are in the right place. If you haven't, you may want to start at the very beginning at hop organizer,
Teresa
'cause I know that there are some really awesome people playing.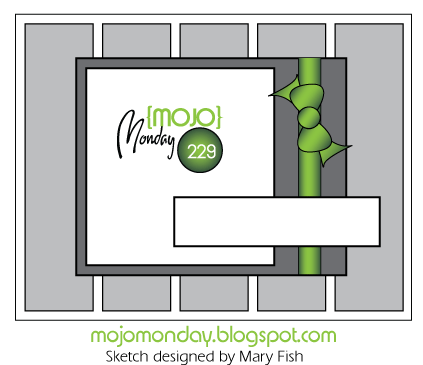 So this week's awesome Mojo Monday Sketch was a doozy. And a definite challenge for me. But, then again, that is what it's supposed to do, right?
I took the sketch and turned it on its side. Then used a whole lot of
CutUps dies
. I really wanted to show off all the clouds so I didn't put the center panel in from the sketch. I think if you squint your eyes a little bit you still get the feel spirit of the sketch.
Now on to
Carole
! I KNOW she's done something truly awesome. She always does.