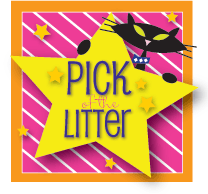 Happy Valentine's Day, Everyone.
This Valentine's Day we are starting a new feature at The Cat's Pajamas. The Pick of the Litter.
We've been seeing so many truly wonderful Cat's Pajamas creations on the web, that we feel blessed and awed that you are using our Cat's Pajamas Stamps, and CutUps Dies! So we thought that we'd pick one each weekday to share with you.

Cards and projects that amaze and inspire us. Our Pick of the Litter, if you will.
Come and join us each weekday on our
SplitcoastStampers Forum
, or on our
Facebook
page to see that day's Pick of the Litter. We think you'll be amazed and inspired, too.