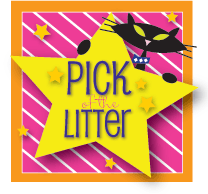 It's stormy outside so it's the perfect kind of day for drawing. I'm about 70% through with the images for the next release. And I must say, they are awfully cute. And the dies, well, to die for.
There are so many awesome cards and projects made with The Cat's Pajamas stamps and CutUps that we have to share with you. The Cat Pack and I picked the most inspiring, awesome cards from the past week and past week's TCP Tuesday Challenges.
So, if you are in need of some eye candy, click on over to our
SplitcoastStampers forum
and take a look at the Pick of the Litter thread. Not on SplitcoastStampers, then check out our
Facebook
page. Not on either? Well, honey, get with the program!
Now. Back to the drawing board.
So, check it out.