It's TCP Tuesday and
Susan
is the Hostess with the Mostess for this week's TCP Tuesday Stamp Challenge.
And Susan is asking you to wing it. That's right, I said it "Wing it". Do I have you scratching your head, yet? Susan is asking you to use any of The Cat's Pajamas stamps with wings. That means that you can use any stamp with a bird or plane or any stamp with wings. And I know there are quite a few, having drawn a good many wings in my lifetime her at The Cat's Pajamas.
But, don't take my word for it.
Fly on over to
Amy
and check out her pretty, pretty card. I love how she placed the sentiment and ribbon in the nest.
Lori
adds a bit of sparkley goodness with her wonderful card.
Check out
Susan's
card. A beauty, no? See the wings? And she even last week's TCP Tuesday Color Challenge as her color combo.
And speaking of last week. Want to see more of last week's TCP Tuesday Challenge? Look at this
SWEET
card by
Leigh
! Bunnies don't have to be just white and brown.
Then
Amy
casts a spell on me with her witchy card.
Jackie
captures my heart with her beary beautiful card.
And
Jen
makes my heart flutter. Her card is pretty and her color use? You never would have thought she didn't like cornflower blue.
Then take a ride on over to
Julie's
place. I love that she made a tag on her card. And her embellies? To die for.
Lori
works her CAS magic, again, and blows in with this cutie of a card.
Play along with us this TCP Tuesday! You could win 10 smackaroos in Cat's Cash and be eligible to win some of our new release stamps and dies. You just have to play along.
And even though you are only eligible this week for the Weekly Winner prize if you play in the stamp challenge, you are still eligible to be the Swanky Stamper for next month. All you have to do is play in any one of this month's challenges. There is still time left.
What are you waiting for? Time is a wastin'.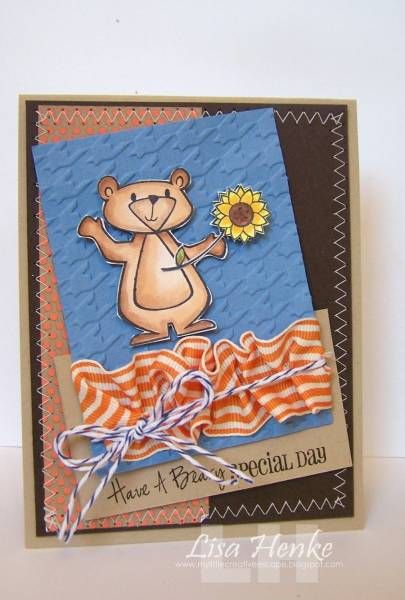 And now for last week's Weekly Winner. Lisa Henke created this delightfully ruffled beauty, and just because she played along she wins $10 in Cat's Cash. Lisa, please email me for your promo code.

Want to play? Just upload your card to the guestbook below with your stamp challenge card or project. Remember, only The Cat's Pajamas stamps for this challenge.



Here are the Deets.

1. Each Tuesday we will give you a challenge.
2. You will have until the end of the month to complete the challenge.

3. Add your entry to the guestbook or upload to the
SCS Gallery
, using the keyword TCPTUES174 for this week's challenge.
4. TCP stamps are not required for this challenge, but highly recommended.
5. There will be one randomly chosen weekly winner, announced on Tuesdays who will win a Gift Voucher for use on The Cat's Pajamas website.
6. There will be one winner, The Swanky Stamper, announced the 1st of each month. They will win several sets from an upcoming release and get to play along with us at our Pajama Party and Blog Hop.