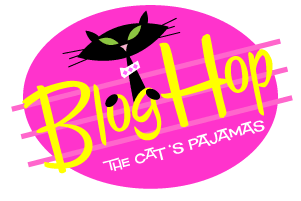 It's our very first customer blog hop, and I hope you are playing. If you've come from
Joanne's blog
, you are at the end of The Cat Pack's part of the hop, and at the beginning of the Customer Hop. Just check out the fabulous designs our customers have made by clicking on the links on the right hand side of this blog. We've got nearly 60 entries. How's that for inspiration? Want more? Check out
Linda's
and
Beate's
entries to wow your socks off.
The challenge? Use your Cat's Pajamas stamps to create something fabulous. Here's my take on it.
My niece, Robyn is having a birthday soon, so I thought I'd whip her up something a little special.
Here's a closeup of the letters! I used my trusty pencils and odorless mineral spirits. And something NEW that will be featured in next month's release. Can you guess what it is?
This project was so fun, I'm teaching it this weekend at
Stamper's Ink
. So if you are in Kansas, sign up!
Want to play? You have until midnight EST/ 9:00 PM PST, Tuesday to play and add your link. Want even more incentive? The best of the best will receive ALL of the stamps in our next release and play along with us at our Pajamas/Release Party and Release day Blog hop. I'll announce the winner on August 26!
Come on! You know you want to.
Need more inspiration? Check out
Ana's
Card and then start the Cat Pack's Blog Hop at
Sonja's Blog
.