It's Day #5 of Sneaky Peek Week and I'm Sneaky Peeking a couple of items that were totally inspired by The Cat Pack. The first is this set called "Love Letters". It's kind of a "building block" sort of set.
Jen
told me that she noticed a certain look in typography that she liked. It was "Subway Style". Blocks of type that were turned sideways and rightways and all sorts of ways. It mixed different fonts and the type was kind of built into blocks. I took her idea and ran with it, and came up with this set.
It's so fun to stamp with. And Leigh came up with the cancellation mark. Brilliant, I think. Sprinkleville? LOVE! I just love this set, so I had to make something with it. If you didn't know already, Jen has one of the best sketch sites around,
SFYTT
. That's Sketch For You To Try for those of us who are initials challenged. This month, The Cat's Pajamas is the sponsor and if you play along, you could win some really awesome prizes.
Check out the deets,
here
. I used this month's sketch for this card. Not only did I use the "Love Letters" stamp set, but I used the two dies that are releasing this month, Stamp Trio, and Heart Trio. And this card uses Jen's TCP Tuesday Technique Challenge to use ribbon in a different way.
To make the hearts, I stitched two pieces of red cardstock together and lined up the center of the Heart Trio Die with the stitching and ran it through the die cut machine. The Heart Trio cuts 3 hearts at a time and pierces the scallops in the outside heart. The Heart Trio die was inspired by Amy. She did
this awesome card
last year and I knew, then, that we had to have an "outline" heart.
Then I trimmed the scalloped heart away and folded the inside two hearts in half and fluffed them up. I cut a pink, single sheet of cardstock and set it aside.
Then I used the Stamp Trio die to cut a piece a white card stock and placed the stencil/mask that comes with the die, over it, and used a stencil brush to give the center color. The stencil/mask keeps the edges white.
Leigh
suggested the stencil/mask for this die
and I really think that it adds a lot of versatility to this die. I used the rest of the "Love Letters" set to finish making the postage. Check out the piercing on the outer heart. Just love how delicate it looks. It doesn't need a special mat to get that piercing. It just pierces like that when it cuts the hearts.
Then I assembled everything on a black circle. I used
black foam tape
to help hide the adhesive. I first saw Tim Holtz use this tape, and I thought it was perfect if you adhere a lot of dark paper. I mean, who likes to see white tape in between dark layers? It's like wearing white shoes with black tights.
After I assembled the card layers I ran a strip of Scor-tape down the side and adhered the ribbon to the tape, like this. Folding it this way, three times and then three times the other way. Then I trimmed the ends.
I placed some rhinestones and a silver scalloped circle behind the black circle with the hearts and stamps. I just love how this looks.
When I was taking the picture, I kept telling Anthony not to look. I think this will be a perfect Valentine for my sweetie.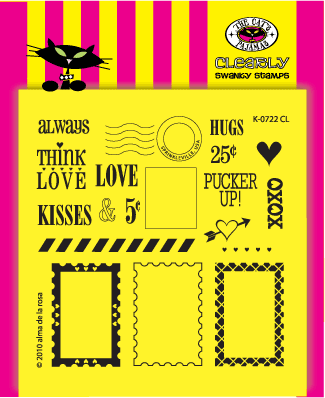 Here is the stamp set I used. "Love Letters". And here are the dies.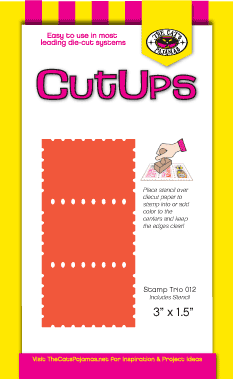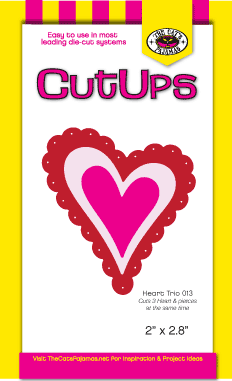 Want to see more? Check out
Leigh
,
Carole
and
Amy
. They've got some awesome cards, I must say.