Day #7
Clownin' Around


It's Day #7 of Sneaky Peek Week! That means that tomorrow is the day our Fall Collection will be available on our
website
.
I hope you like what you've been seeing because, let me tell you, this collection has been as fun to play with as a barrel of monkeys. And speaking of monkeys, our last stamp set features our roly poly friends, the penguins, as what else, clowns. I don't know about you, but clowns always creeped me out, just a little, so I thought I'd exorcise the clown stigma with a little penguin fun.
Nancy Thomas
gets the idea with this colorful card. Even the car gets into the act in this set. And look at how she used the Circus Panels to make a circusy border. Genius!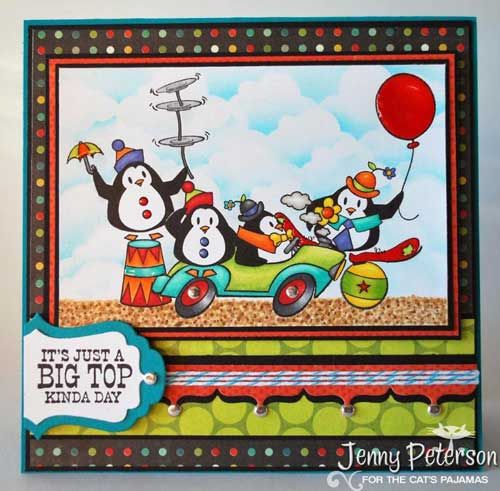 This set is packed full of stamps. 3 main stamps plus sayings, AND accessories galore.
Jenny Peterson
doesn't hold back in this card. You can tell she had a lot of fun playing while she put this beauty together. Check out the double Circus Border at the bottom of the card.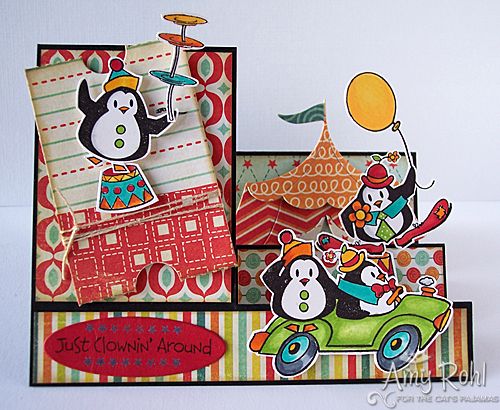 Have you ever tried to make one of those fancy foldout cards, but didn't know what to put on them? I suspect, with all the images in this set, mixed and matched with the Big Top, Big Ticket and Circus Panels CutUps dies,
Amy Rohl
had no problem. What a really fun card.
Want to see more of "Clownin' Around"? I know
Susan
has more fun to show you. She was so inspired that she decided to take her family to....the circus. Now I feel complete.
Then head on over to our
In It To Win It thread
in our forum at SplitcoastStampers. You could win the "Clownin Around" stamp set or any of the other stamp set we are previewing this week. Winners are announced each day on each of the Sneaky Peek threads.
And while you are there, you are invited to our Pajama Party to celebrate this fun collection. From 5:00-7:00 PST or 8-10 EST you are invited to join us on
this thread
for more Sneaky Peeks, Games and Giveaways.