It's that time again! It's the first day of Sneaky Peek Week. That means that the New Release is one week away on Tuesday, November 23. Okay, we are starting a day early, but we have so much to show you.
For the last couple of weeks, I've been showing you some adorable designs by our newest artist from Ou Ou Illustration. And today is no different.
Today's design features a sweet little gal dressed appropriately for the upcoming cold weather in the NEW set "Snowflake Girl". What I love about this image is that she is just the right size for coloring and the line weight is just PURRFECT for paper piecing and coloring.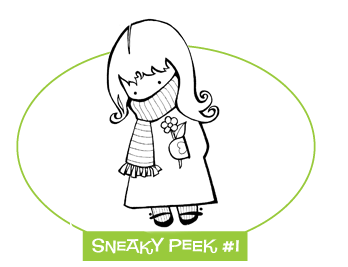 So I had to ink up this little one and do a card. She comes with a large snowflake, hence the title "Snowflake Girl", and I thought it would be perfect to do a transparent card. I'm still working on how to color black hair with my Odorless Mineral Spirits and I'm quite pleased with this little gal.
And at the bottom, I've used one of our new CutUps Dies. Check out
Toni
,
Amy
,
Sony
and
Joanne
for their take on this cute little gal. And come back tomorrow for another sneaky peek at our new release.