It's Day 3 of Sneaky Peek Week and we are almost halfway through the new release. Today, I am showcasing another stamp design from Laurie Nadeau. This little fellow is from the set, "Like You A Latte". Isn't he adorable? I think that there are not enough boy stamps, so when I saw him, I knew he just had to be made into a stamp.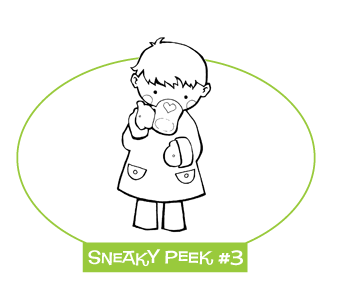 Around this time of year, there tends to be a lot of small gifts that need to be given. Hostess gifts, gifts at a cookie exchange, gifts for the next door neighbor. And, I always like to "'dress" up a gift card with a box or a little something. Those little gift cards are great, but so dull around the tree.
So I thought that this little guy would be perfect for a little hot chocolate kit. Easy to make with a template from
Creations by AR
, I fancied it up with my very favorite new CutUps die. Well, my favorite today. It's called "Icing" and it will be one of the new dies available on November 23.
Here's the inside. More of the "Icing" die, some pretty paper and Hot Chocolate and it's good to go.
Want to see more Sneaky Peeks? Check out
Jen
,
Julie
and
Joanne
for more!