It's the very last day of Sneaky Peek Week, which means this is the last day to see what will be releasing TOMORROW for our very last release of the year. This very last peek features the designs of Mew Paper Arts.
She's the gal who brought you the Bunnies in Tutus in our
TuTu Much
set and the Whale in our
Whale of a Time
Set.
Her Bunnies are very serene, with a touch of reserve. Her linework is very expressive. So when I saw this bunny placing the star on the tippy top of this tree, I feel in love.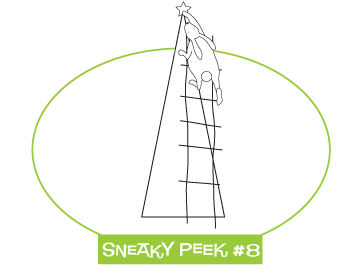 It's simple, yet elegant. Fanciful, yet dignified. Her design is simple, but it says all it needs to say. AND with only 2 places to color, it's the perfect candidate for those HUNDREDS of cards you still have to stamp.
Check out
Sony
,
Susan
and
Joanne
for one last look at our new release. I think that there is something for everyone, this time around.
Then join us on our
Forum
for our Pajama/Release Party at 7-9 est/4-6 pst tonight. And then go shopping for some great NEW stamps and dies! Remember, we'll pick up the tab for shipping in the US from November 23-29. And if you are outside the US, shipping is only $3.00.