Welcome to Day Five of Sneaky Peak Week! Are you ready for another Sneaky Peek? I know I am!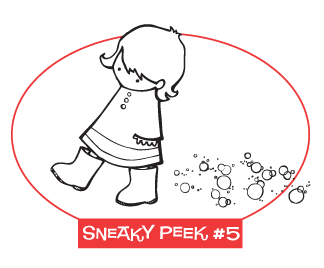 When I first saw the drawings of Laurie Nadeau, I fell in love. And each time I see a new one, I fall in love again. Her graphic style is so clever and her characters, so sweet. And her line work just sings. Perfect for paper piecing or coloring, this simple image is from our NEW "Wet Puddle" Clearly Swanky Set.
I can totally see this little girl splashing away, making bubbles in the puddles that she squishes through.
Charming.
Check out
Jen's
,
Amy's
,
Leigh
's
,
Jenny's
and
Susan's
cards. I know that you will be charmed, too. Then check back in here, tomorrow, for another Sneaky Peek!