Day #1
Snow Day
It's the very first day of Sneaky Peek Week. That means that a week from now is the first day you can get all the goodies in this collection on The Cat's Pajamas
website
.
Ready?! Snow Days features the ever popular Bunny, except this time instead of riding his bike, or flying his plane, he's taking advantage of a snow day and engaging in a little horseplay. Or should I say, bunnyplay?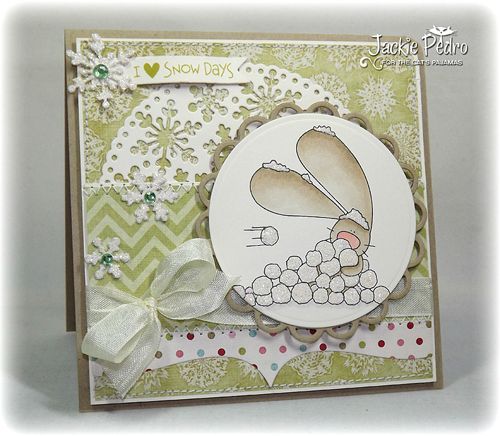 Take a look at this soft and pretty card by
Jackie Pedro
. Who would've thought that a snowball fight could be so elegant? Did you notice the pretty little snowflakes? They all come from our NEW Snowflake Lace Paper CutUps die. It's our riff on the Doily Die. Not only does it cut a wonderful lacy doily, but it cuts out 3 different sizes of snowflakes, too. It's like getting four dies in one.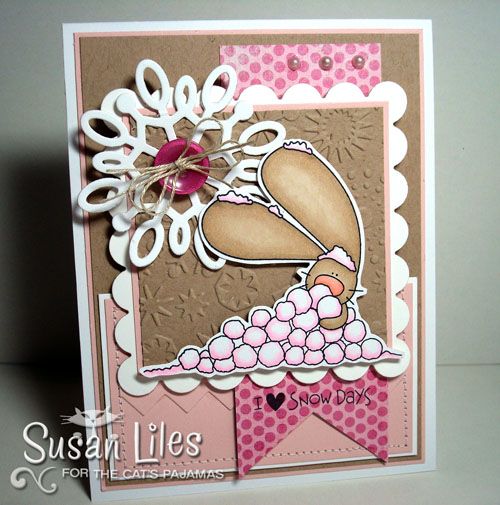 Now take a gander at this card by
Susan Liles
. I'm loving the color combo here. Very Sugarplum Fairy.
Want to see more? Then check out
Leigh, Julie, Lori, Jen, Jenny
,
and Swanky Stampers,
Kimberly Gajewski
and
Stephanie Herbert
and see how they used "Snow Days". When you finish drooling over at their blogs, head on over to our Forum on SplitcoastStampers and leave a comment on our
"In It To Win It!" Thread
. You could win the "Snow Days" stamp set! Just by leaving a comment!
Come back a little later to see who the weekly winner and what the TCP Tuesday Challenge is.