Day #7
J*lly H*liday
It's Day 7 of Sneaky Peek Week! The final day of our Sneaky Peeks and today we are showing the final set, "J*lly H*liday". "J*lly H*liday" and all the stamp sets and CutUps dies shown during Sneaky Peek Week will be available for purchase on November 29.
When the set was designed, we wanted it to do so much. First, we wanted it to be fun and interactive.
Second, we wanted it to be simple and classic, since around the Holidays, the one thing that we never seem to get enough of is time and money. So we wanted this set to be fast and easy, and one that you could dress up or down, that you could use year after year.
And thirdly, we wanted the set to be able to work with the
Big Ticket CutUp
s and the
Stamp Trio CutUps
. "J*lly H*liday" is the result. We hope you like it as much as I do.
The set is made up of Holiday words, icons and phrases that you can mix and match. This card by
Amy Rohl
shows the set off to perfection. She used the
Big Ticket CutUps
as the base for the stamps and stamped "Jolly" and the ornament for the "O". Then she used the snowflakes from the Snowflake Lace Paper CutUps to dress up the side of her card. The result is stunning.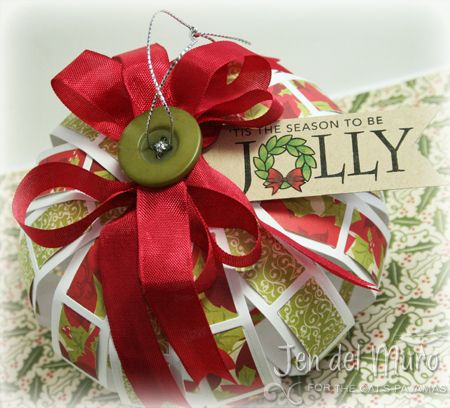 No less stunning is
Jen del Muro
's ornament. She used the same word, and a wreath for her "O". And then she used the Anywhere Ribbon Slide CutUps to create this wonderful and beautiful ornament. Take a closer look.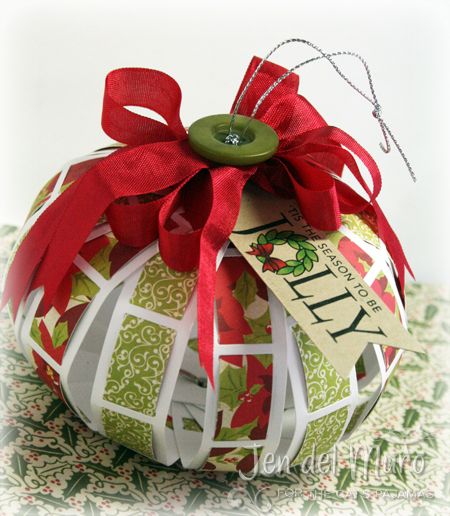 Here is the ornament from the side. I can just picture this hanging from a tree, can't you. It's just breathtaking.
Now here is my card. This card was made with going through the mail in mind. It can be sent in a standard size envie, relatively flat, and it's light. And, I wanted to send something that a non-stamper would "get". Here I've used "Noel" and the wreath, along with a pretty flourish that also comes in the set.
I used the Anywhere Ribbon Slide CutUps with the
Dove Seam Binding
. The best thing about the Seam Binding is that it's light and ties into a nice compact bow. And, if it gets wrinkled, it only adds to the look. This release, we'll be adding four yummy new colors of Seam Binding, Tinsel, Cornflower, Cranberry and Evergreen. Perfect for the Holidays.
Want to see more? Then check out
Susan
,
and
Lori
and see how they used "J*lly H*liday." When you finish at their blogs, head on over to our Forum on SplitcoastStampers and leave a comment on our
"In It To Win It!" Thread
. You could win the "J*lly H*liday" stamp set just by leaving a comment!
I want to thank Swanky Stampers, Kimberly Gajewski and Stephanie Herbert for playing along with the Cat Pack this release. Their beautiful cards really showed off this collection. We are truly, truly blessed.