It's TCP Tuesday and
Jen
is the Hostess with the Mostess for this week's TCP Tuesday Inspiration Challenge.
Jen
always "works" the Inspiration Challenge and this time is no different. Take a peek at her Collage. It's all sorts of snowy goodness layered up with some texture and warm feelings.
What can I say, this challenge called to me so I had to play. I created a transparent card using our
Heavy Acetate Sheets
. If you haven't tried them, they are super heavy and perfect for card bases. I stamped up the acetate with Stazon Opaque White, and inserted a piece of blue cardstock inside.
Then, I folded white cardstock in half and stamped the bunny from Snow Day (releasing 11/29), colored him and cut him out of the two halves of paper at the same time. (The fold is at the bottom) Then I added adhesive and slipped the card into the fold of the white paper. That way all the adhesive is nicely covered.
A little embossing to the sentiment, tied up with a little silver thread, and I call it done.
How does this collage inspire you? Let's see. Don't forget to add your card to the inlinz button at the bottom of this post.
WEEKLY WINNER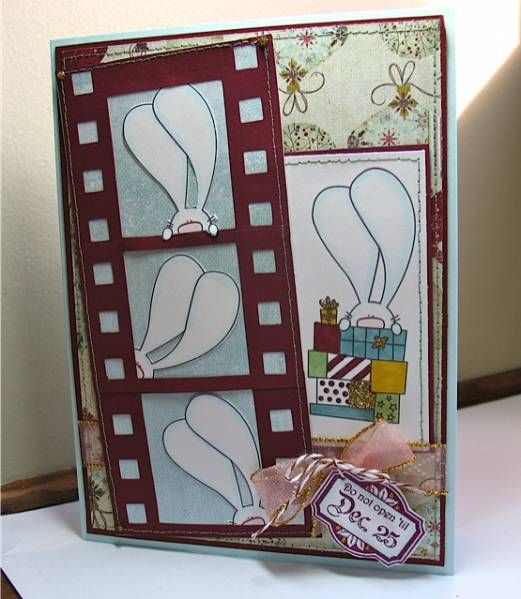 It's Weekly Winner Time! This week's Weekly Winner is Wendy. She played along with us on our TCP Tuesday Sketch Challenge.
Isn't her card funny? Those little bunnys in their little filmstrip just crack me up.
Wendy, please email me for your voucher code
Here are the Deets.

1. Each Tuesday we will give you a challenge.
2. You will have until the end of the month to complete the challenge.
3. Add your entry to the Inlinkz Gallery or upload to the
SCS Gallery
, using the keyword TCPTUES186 for this week's challenge.
4. TCP stamps are not required for this challenge, but highly recommended.
5. There will be one randomly chosen weekly winner, announced on Tuesdays who will win a Gift Voucher for use on The Cat's Pajamas website.
6. There will be one winner, The Swanky Stamper, announced the 1st of each month. They will win several sets from an upcoming release and get to play along with us at our Pajama Party and Blog Hop.