Day #5
Peeking
It's Day 5 of Sneaky Peek Week! Wow, we are more than half over with Sneaky Peek Week. Time certainly flies. PJ the Bear is making his Holiday appearance in "Peeking" Having unwrapped a couple of presents before Christmas in my day, I certainly know that look. It's the "What? I was just admiring the bow on this present, really", look. Do you know it? "Peeking" and all the stamps and CutUps dies we are previewing during Sneaky Peek Week will be available on November 29.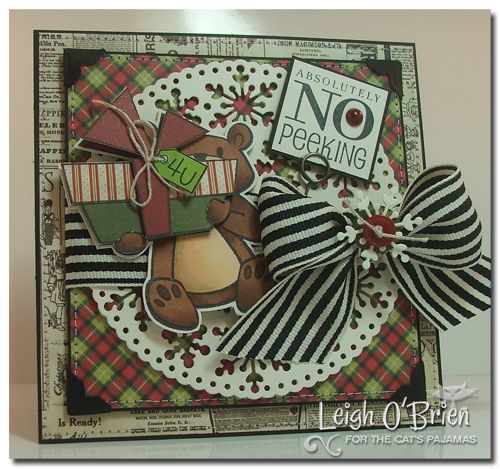 Even though it's the Holidays, "Peeking" is one of those classic images that you can use all year long. Just by changing out the paper and embellies, you've got a different look, for a different time of year, different occasion. You really can't go wrong with this sweet image for any time where there is gift giving.
Like this card by
Leigh O'Brien
. She makes make the perfect Holiday card by paper piecing the gift, coloring PJ and tucking in the Snowflake Lace Paper CutUps behind him. A little snowflake embellie from the CutUps and it's done.
Like this gift bag by
Nancy Thomas
. She does a simple tag but makes it "Holiday" with the color palette. It's a fast and easy way to dress up a gift bag. I know I have a TON of these to make. Want to see more? Then check out
Jen
,
Amy
,
Carole
and Swanky Stampers,
Kimberly Gajewski
and
Stephanie Herbert
and see how they used "Peeking".
When you finish at their blogs, head on over to our Forum on SplitcoastStampers and leave a comment on our
"In It To Win It!" Thread
. You could win the "Peeking" stamp set just by leaving a comment!