Day #4
Freezin' Season
It's Day 4 of Sneaky Peek Week. Hump day. The bunny is making another sweet appearance in this NEW stamp set, "Freezin' Season". "Freezin' Season" and all the stamps and CutUps dies we are previewing during Sneaky Peek Week will be available on November 29.
One of the reasons to love this bunny is that he is do easy to "do up". Like in this card by
Amy Rohl
. She stamps the bunny, paper pieces him and then colors him. Paper piecing is an easy way to bring color and pattern to your cards. Then Amy finishes it off with our NEW Snowflake Lace Paper CutUps and a twist of our NEW Seam Binding in Cranberry.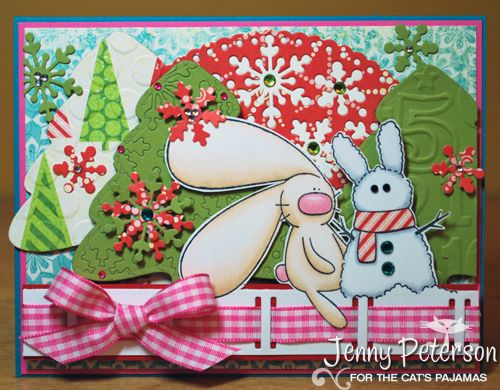 Here is the bunny "done" up simply on this card by
Jenny Peterson
. By keeping him and his little friend simple you can go all out with the background. She also uses the Snowflake Lace Paper CutUps. The CutUps is very detailed, so you may have to pass it through your die cut machine several times with shims. Unless, of course, you want the look of the center tree. You can run it through without cutting all the way through, or do what Jenny did and through with an embossing pad. Either way works, but using the embossing pad gives you a more consistent look.
And, Jenny uses the Anytime Ribbon Slide CutUps, too. Designed for 1/2" ribbon, you can use it with a smaller width and get this look.
In this easel card by
Lori Tecler
, she keeps the bunny and company, simple and clean. She doesn't dress him down, but up, in elegance. Love that she uses the Anywhere Ribbon Slide at the "base" of the card with our New Seam Binding in Cornflower.
Want to see more? Then check out
Leigh
,
Nancy
,
Jackie
and Swanky Stampers,
Kimberly Gajewski
and
Stephanie Herbert
and see how they used "Freezin Season".
When you finish at their blogs, head on over to our Forum on SplitcoastStampers and leave a comment on our
"In It To Win It!" Thread
. You could win the "Freezin Season" stamp set just by leaving a comment!